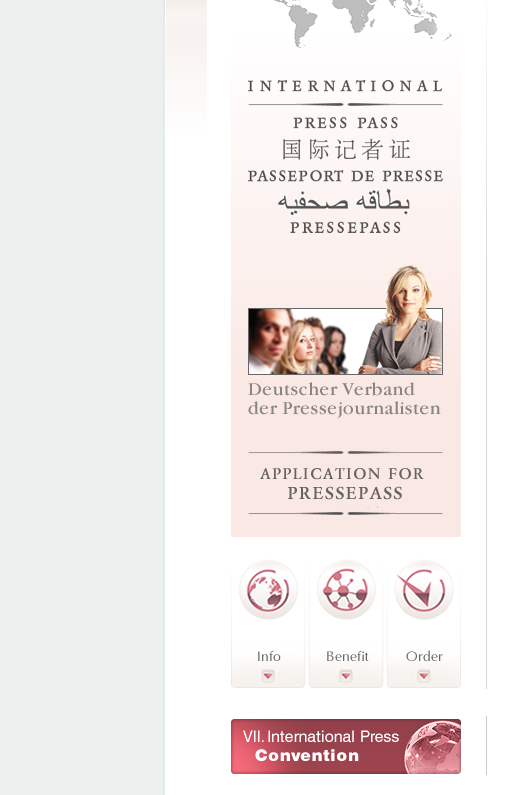 International passport of the press:
Special benefits, preferred status and extra privileges
Media representatives have access to special benefits: The DVPJ, an international organization of journalists, issues an authorized passport ot the press for journalists on international assignments can use around the world. Thanks to this service, the press and media professionals now have at their disposal a globally usable tool and document of protection, which is truly one-of-a-kind. It facilitates a journalist's work – in particular during assignments abroad. The high-end design of this representative passport document make it comparable to a government issued national passport. It comes with a whole range of special security and certification features:

• gold foil embossing on linen structure
• 44 pages, special paper
• security background/guilloche
• hidden security label (UV light)
• translated into 20 languages
• approval number (authorization)
• bordered certificate of authenticity
• authorization and check mark
• verification stamps and hologram
• confirmation of the registration
• micro line, watermark and permit number
• personalized needle perforation
• sealed ID site and code detection
• laminated with fluorescing thread


• Extra midi press sign for the car and official register confirmation inclusive:
Have a look

The international passport of the press has 44 pages and contains text copy in 20 languages. In these languages it also includes industry relevant passport notices for government agencies and security services (e.g. pertaining to the handling of film material and storage media, electronic inspectionsm, x-ray hazards). The passport of the press can either be issued with an expiration date of several years
.

First class alternative: The original passport of the press for journalists

Worldwide exclusive: In addition to a passport photo and your personal data, this representa-tive pass also contains numerous specific entries. Each pass is initiated on all pages, stamped and signed by authorized issuers. Supplementary entries may be added depending on the holder's individual needs, e. g. to add editorial certifications, accreditations or memberships. A certified registration
confirmation
(Central Register), printing on special paper (similar to the paper used for government issued identification and passport documents), the identification number - all these additional features make this state-of-the-art pass the perfect document for press professionals. For details on the terms of issuance and service fees, please click -
here
-

Additional: International press sign (7-language version)

Depending on the version you choose and the desired validity (standard, executive and amba-ssador version) you will receive a car press sign (7-language version), with a value of EUR 20, at no additional cost to you. The sign is license plat independent and can be used in any car.

•

The features:



• Registered identification number
• Valid: validity stamp
• Dimensions approx. 21 x 15 cm
• Original press seal
• Hologramm identification
• Forgery protected design
• UV protected (sealed laminate)
• Plagiary protected (special color sequence)



Issuance guidelines: The international passport of the press is issued to individuals engaged in journalistic work (full-time professionals or part-time freelancers) and remains the property of the issuing organization. The holder is required to return the passport upon termination of the journalistic work without having to be prompted to do so. Any misuse will result in the immediate seizure of the pass.
Enjoy the high level of acceptance of this international door opener

Based on the assessments of many industry experts, the passport of the press is one of the most efficient press documents for those of you traveling abroad on journalistic assignments, if you need to network or make the perfect impression upon your industry contacts
Apply your passport of the press and seize the benefits of
being a Pass holder.
• For smart professionals.
• Offers extra privileges.
• Use on assignments around the globe.